Gordon James Ramsay is a British elite Chef, Restaurateur, TV Personality, and Writer. He is a world-renowned chef and television host.
He has many restaurants all over the world. He has also hosted large several TV shows, including the likes of "The Hell's Kitchen"and "Master Chef"amidst others.
His rise to fame was in 1999 when he featured in a British TV mini-series "Boiling point."
Gordon Ramsay's Personal Life
Gordon Ramsay was born on 8th November 1966 in Johnstone, Scotland. Although he was born in Scotland, he grew up in Stratford-upon-Avon, England. He was born by James Snr and Helen Gordon. He is the first son in a family of four children (he has an elder sister and two younger brothers and sisters).
Gordon grew up to like football. At age 15, he joined Glasgow Rangers FC. His career ended prematurely in 1985 when he had a knee injury and had to start all over again. He went back to school where he studied Hotel Management and graduated with a degree in 1987.
He married Elizabeth Hutcheson in 1996. Their children names Megan, Jack, Holly, and Maltida.
Gordon has quite a lot of property. Three houses in Cornwall (which worth £11million), a mansion in Trebetherick (worth £4million), a property in Rock purchased in 2015 (worthing £4.4 million), and a grade II listed property in Fowey which worth £2million.
Gordon Ramsay Career
After his studies, he apprentices under some top European chefs like Marco White in London, Albert Roux in Le Gavroche, and Master chefs Guy Savoy and Joel Robuchon in France.
In 1993, he served as head chef in a newly opened London restaurant, "Aubergine." During his stay, he helped the restaurant have a two-star rating from Michelin. He was awarded the Newcomer of the Year at the prestigious Catey Awards (an event like Oscars for those in restaurants and hotel business).
He established his restaurant in 1998. He named it "Gordon Ramsay Restaurant. It receives a three-star rating from Michelin. He opened several other restaurants in London, which include Petrus and Gordon Ramsay II. He also has another restaurant in Dubai named Verre.
He received so many awards. Some include the Chef of the Year at Catey Award in the year 2000 and Independent Restaurateur in the year 2006.
He was inducted into the Culinary Hall of Fame in January 2013.
He began his TV hosting career in the year 1996 when he was featured as a judge in a BBC show. "MasterChef."
In the early 2000s, he appeared in the mini-series "Boiling point"and "Top Gear." He began conducting his show "Ramsay's Kitchen Nightmare"in 2004. He became the main character in the reality TV show "Hell's Kitchen,"which runs simultaneously on American and British TV.
Ramsay had written over twenty books, with his numerous businesses consolidating as Ramsay Gordon Holding Limited.
In 2006, he was named the Officer of the British Empire's Order by Queen Elizabeth II. In 2020, he was ranked by Forbes as the 19th highest-earning celebrity in the world.
How Old Is Gordon Ramsay Exactly?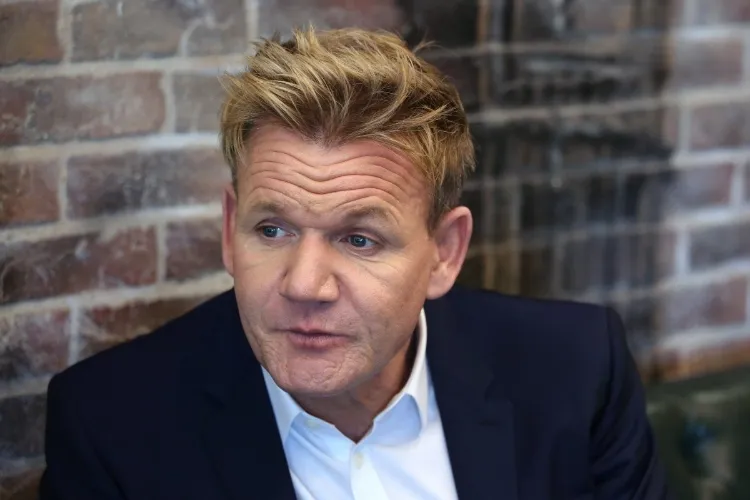 As of the time of writing this article, Gordon is 54years old. He was born on 8th November 1966. His 55th is on 8th November 2021.
Summary Of Gordon Ramsay's Age
The table below highlights vital information you need to know about Gordon Ramsay.
| | |
| --- | --- |
| Parameters | Point to Note |
| Full Name | Gordon James Ramsay |
| Date of Birth | 8th November 1966 |
| Place of Birth | Johnstone, Scotland |
| Nationality | Scottish, American |
| Occupation | Chef, Restaurateur, TV Host, and Writer |
| Spouse | Elizabeth Hutcheson |
| Children | Megan, Jack, Holly, and Maltida. |
| Zodiac Sign | Scorpio |
| Net Worth | $220 million |
Conclusion
I hope this is an exciting piece of biography of the renowned Chef and TV Host Gordon Ramsay. Read through and kindly share with friends and family.